Black Helmet® creates high quality clothing, accessories, and equipment for firefighters, police officers, and military personnel. Founded by third-generation firefighter and former state CO James Love, all the designs are hand drawn, and unique. You'll find no clip art and no cheesy sayings, just images that relay the fearless, but frightening side of our job.

Our Skull Logo

We often get asked about the meaning behind our skull logo. The skull has been a timeless symbol of danger. Regardless of the attached meanings for poison, radiation, and piracy, when you see that symbol it means that whatever lies ahead is not to be messed with. This is why various military units use this as their symbol and emblem. That fact that we are willing to face, and better yet, love to fight fire, we too deserve to wear our version of this emblem with pride. This symbol, the skull and fire helmet, is timeless and quite clear. Our job is dangerous. What we do is not a game, and is not to be played with. So are we....... So are firefighters.


This is how we live. It's what we love. Protect the public, and the brother or sister at your side. Remember those who went before. Teach the new ones coming up. We put on the brotherhood when we put on that Helmet.

The Black Helmet Tradition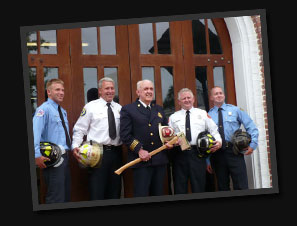 Black Helmet® founder James Love's grandfather is a retired chief of Miami-Dade Fire Rescue (also a Corporal in the USAF). His first helmet was black. Love's father is a retired engineer with 33 years of firefighting experience with MDFR. His helmet is black. Love's uncle, now a chief for Orlando Fire... First helmet, black. James' OFD helmet - Black. And now his cousin, the Rookie. His helmet is black.
Our equipment has changed between the generations. The open cab is a thing of the past. You can't ride the tailboard anymore. 3/4 boots are gone. Debates about smooth bore vs fog stream. The only constant has been our code of conduct as firefighters and our Black Helmet.
One of our favorite customers sums it up with this comment:
"My boyfriend and I are in the department. We both started off as firefighters, but he climbed the ranks and is currently a battalion chief while I chose to spend the rest of my career on the engine. I bought a few Black Helmet Apparel shirts and a cap, and he expressed a little 'tude about why there wasn't any WHITE helmet apparel choices. Sour grapes.
He recently ate some smoke on an amazing rescue, which COOKED his pristinely white helmet....it's almost completely black. So, you guessed, he's back in "the club"....I let him have my Black Helmet baseball cap, he's sporting it very proudly."
Company History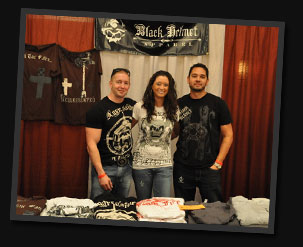 We launched blackhelmetapparel.com and sold our first shirt in June 2008. We had just six designs at the time - some of which are still available in our Black Helmet® Classics collection.

In November 2008 we launched our Facebook page, which now boasts over 400,000 fans.

In June 2009, we attended our first conference, the New York State Association of Fire Chiefs conference in Verona, NY. This was our first time getting to meet customers in this environment and hearing their feedback in person.
In January 2011 we launched a separate line of products - System Protocols - for EMS professionals.
In July 2011, we launched Black Helmet Supply produced by LION®, a line of NFPA-certified protective gear and equipment with hand-drawn designs that represent how firefighters live.
In September 2011, Black Helmet® became a registered trademark with the United States Patent and Trademark Office.
Overall, it's been an exciting few years - we've sold over 350,000 products and hope to continue providing many more in the years to come.